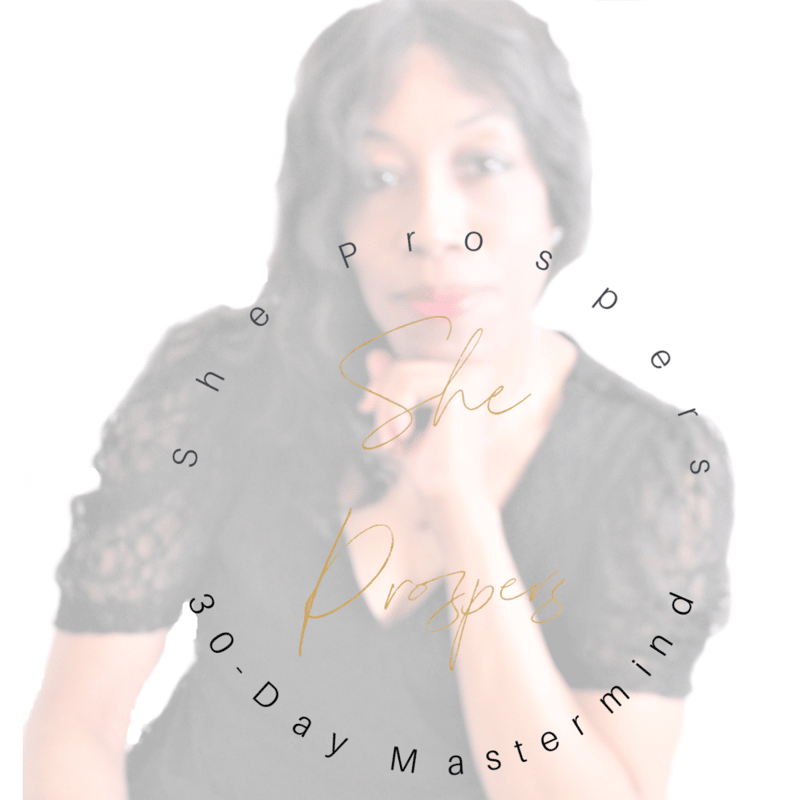 ​
SHE PROSPERS
30-Day Mastermind
"AS A WOMAN THINKS"
​
You're in the right place!
At some point you have to say,
" I'm tired of being in this place of unsatisfactory results. Unhealthy relationships, less than I deserve and desire in my finances, and exhaustion from emotional instability."
At some point you no longer accept being mentally scarred allowing past mindsets to give you undesired results.
The greatest impact of failed relationships and divorce is the impact on your mind.
At the same time your mind is the wealthiest thing God has gifted you with when you learn to tap into his abundance.
When you learn to align fully, mentally and emotionally, with what you truly desire not what you've been settling for, you obtain the power to change your entire life.
​
"She Prospers" is a powerful, life changing 30-Day Mastermind that shows you how to accomplish your desires with greater ease and FLOW by learning how to think, shift your energy and change your paradigm.
It's an activation of your natural God-given ability to prosper and be in health.(John 3:2)
I share behind the scenes in-depth insights into my process of manifesting and experiencing harmony and abundance in my life. I share principles I teach my clients to use that create more in their life, relationships, business, and money!
​
Many of my clients have reached their 6 figure mark by working less and earning more by shifting their thinking.
For those who have heard of "Heal Sis Master Life Class"
This is the activation to Step more fully into the
"Manifesting Princess Stage"
of your Spiritual Growth and healing journey!
The energy is bananas when you are in a community of people who are expanding, learning, and on one accord!
High Vibrations.
We are manifesting and having fun while doing it!
​
~If you want something beyond your current capacity, you must launch out into deeper waters!
---
When Does The Mastermind it Start?
Immediate Access,
Live Coaching sessions are on Sundays at 6:00PM (ET)/5:00 CT
What will I learn?
Learn to release and activate the principles and laws that set the course for more abundance in your life.
Learn to step fully into your feminine energy inorder to allow more abundance into your life.
Learn in depth manifestation and mindset principles to create more abundance in your life and business!
This is all about manifesting and mindset and attracting what you truly desire in every area of your life including relationships.... with ease!
The Regular cost of this Mastermind is $997. Take Fast action and save up to $300. This opportunity to save will end soon.
​