Although you move on physically, (new home, cars, promotions on the job, start a new business), mentally you can still feel trapped in what was, what wasn't, and WHY.
As if you've wasted so much time with no hopes of ever regaining it back.
The residue alone affects your energy.
​
It affects how you move, live, and have your being, as well as what you attract.
You may have even settled in areas. As for relations deciding to simply never date or marry again.
​
Getting back on track can feel draining.
​
I'm here to say, "It does not have to be this way.
​
You have an original design God intended for you.
Doing your INNER WORK helps you unlearn and realign to the natural state of well being God desires you to have.
As I've listened to the stories of women, I felt burdened.
Called to do something.
​
Listening, I instantly heard what they could do differently for new outcomes, new fulfillment, and their own personal form of closure.
​
I am only able to recognize what they could do differently because of how I walked out my own transition, time of separation and divorce from a 14 year marriage that escalated from unhealthy to even toxic, as the years progressed.
​
Hearing numerous conversations, I realized my transition happened with greater ease and prosperity than most. I was able to pin point exactly what I did differently, how I changed my entire life, moved to a completely new city with my daughter, created a business I could completely run from home, multiplied my income and created a new life I love.
I've never been more fulfilled, or felt more whole.
I documented my steps and created a
3-Day Master Life Class,
"Heal SIs",
for women who've experienced divorce and failed relationships looking for their own sense of closure and wholeness.
​
A sound board to embrace their fresh start with impactful, powerful , spiritual and practical steps to wholeness, happiness and fulfillment!
Women married and unmarried have taken this Master Class and found it life changing.
​
Live Session begin
August 7-9th ( 7:00 PM ET nightly)
​
​
~ You'll learn what stage you are in as it relates to what happens after a break up and next steps to take to move forward with greater ease, FLOW, and prosperity!
​
~You'll learn to stop comparing your old life to the new one you desire to create.
~You'll learn to create from a state of joy
~Interact with others without getting derailed from your own path
You'll learn to shift your energy and attract more of what you desire
​
~ You'll gain wisdom and insight on stepping into your power and femininity... often loss in unhealthy marriages and failed relationships.
​
~You'll access an inner work path that shifts you back to your original Design
​
Throughout my 28 year entrepreneurial career and time as a Certified Life Coach, I've conversed with thousands of women. There has been a common theme of concern centered around relationships and money!
They both impact your life greatly, but the quality of your relationships is over 85% of your success.
Join us for this life changing experience
"Heal Sis" 3-Day Master Life Class
Virtually
Replays available for each session!
~Disclaimer I am a Certified Life Coach. I operate in a space of clarity, insight, moving forward, and aligned strategy. If you feel you need therapy, or medical advice, please seek a Licensed practitioners, Licensed Therapist and Licensed Counselors. Referrals are available.
​
Live Session begin
August 7-9th ( 7:00 PM ET nightly)
​
​
What women are saying who've taken "Heal SIs"
This class was much needed for me to move to my next level in my WHOLE life. We are social beings so we are bound to relationships. Not just a marriage, but our friends ,children, parents, and extended family.
Relationships don't always go the way we think.
In the process we can become, not who God has designed us to be and have a negative impact to those we love, honor, and respect... including our SELF.
Ms. Tanya has given me tools to use immediately that I can graciously apply to that present situation.
I am truly thankful!
~Sojorna Worthy
​
Heal Sis" was exactly what I needed to not only confirm that the journey I have been on the last 5 years was exactly what I needed, but it also confirmed that I had indeed done the work. The stages solidified why I was experiencing so many different emotions. I was becoming self aware, I was understanding my triggers and realizing that although I was experiencing triggers, I was still healed. "Heal sis" is a mandate from God, a God movement. I thank God for Tanya being obedient. God used her mightily to speak directly to me, she did not realize she was on assignment, I was catapulted into my destiny. If you are sick and tired of being stuck in the same patterns, fighting generational curses and showing up in an unhealthy way, you need to..."Heal Sis" your destiny awaits you...I'm free, I healed sis😍
~Tosha Wilson
​
​
Heal Sis was right on time. I just so happened to catch the last live Ms. Tanya was doing before the class launched. I knew I was supposed to catch it. It gave me a name for where I am and and a map to where I want and need to go, along with strategies to get there. It's the inner work that's gonna allow you to #healsis
~Sharonda Thomas
​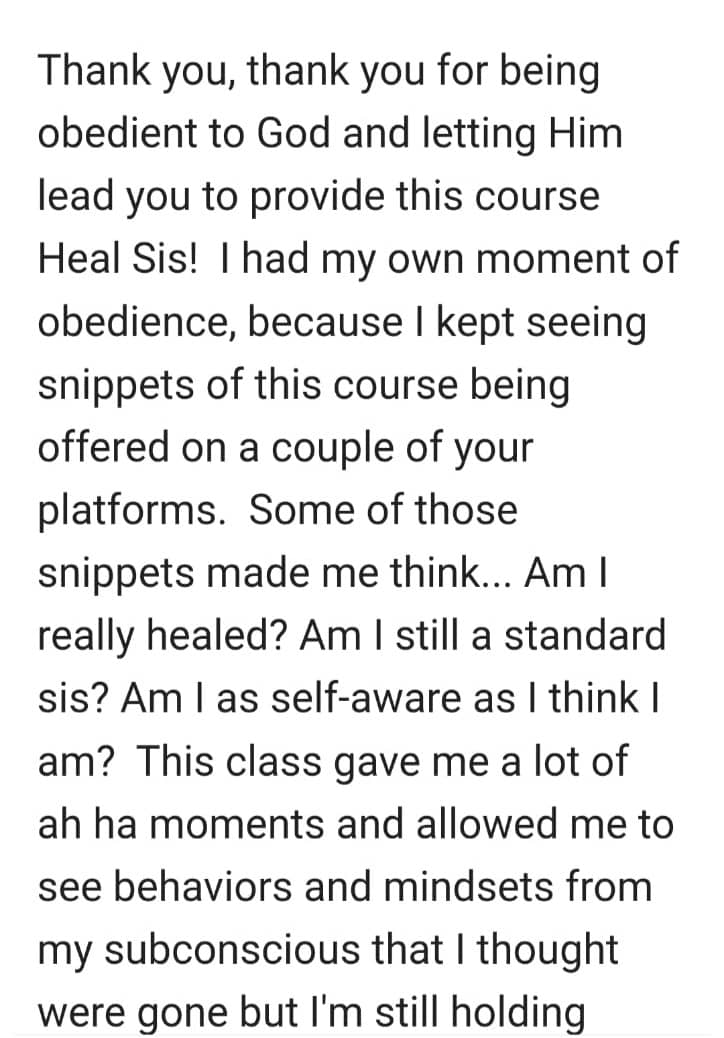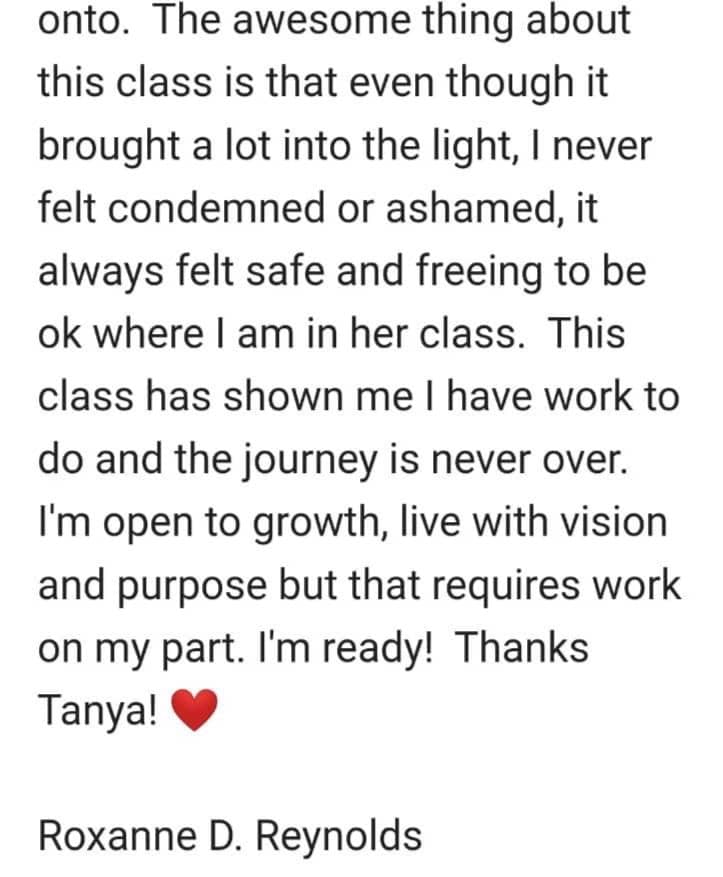 Meet Tanya:
Growth Strategist/
Master Life Coach
​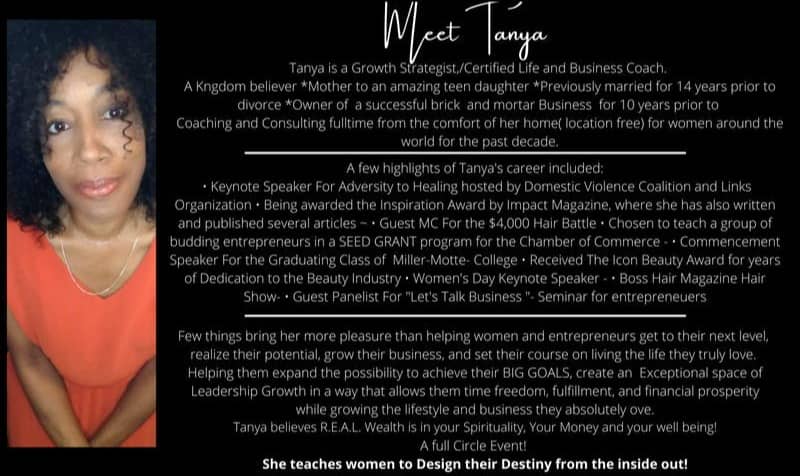 ​