​
Jackie Morris Licensed Realtor/ Couture Designer
​
3D SUCCESS Academy​
​

​
​
​
This Academy is created for Women like you who value freedom. Who are serious about growing their brand/ business in a way that's supports their life as well.
We uncover business, branding, and marketing frameworks to support you in your business growth.
Infused with mindset, money mindset, inner work,
leadership, and relationship building tools you'll need to keep you in alignment as you build.
A Holistic (Your 3D Essence) approach to building your Business and creating your Brand!
The soundboard for your abundance and wellbeing as a Woman in Business building a Brand.
​
​
Who is this for:
​
Women who value Freedom

Women who want to thrive in business and life and committed to their next level of growth

Those ready to break through to new income levels

Women who want work-life harmony who struggle with overwhelm and confusion in their business building process

Women entrepreneurs in the service-based industry who want to build a strong brand that easily attracts their perfect people (ideal clients/customers, opportunities)

Those looking for simplicity in building their business, brand, and LIFE

Those who want to up level their faith and manifest their desires with greater ease

Those who want to make an impact in the world through their business

Those who need a fresh start, reinvention, or expansion in their business!

Women entrepreneurs who want to turn their side hustle or hobby into a solid business that supports them financially

Those in leadership positions with a team or tribe.

Those who want to grow their business on and offline

Those willing to invest in themselves and implement

Those in search of mentorship and accountability in their business and brand building process
​
​
​
(One time Fee above includes Pay Pal-Pay Later Option)
One time Fee Bonus. Those who pay in full get a bonus onboarding Renew Strategy Call. This Power call allows more personal access, focus and assessment, and strategy on your business.
You also receive lifetime access to 3D Success Academy.
​
One time Fee.
(You can opt for the Pay Pal pay later option)
​
​What's Included
In addition to 3D Curriculum, 3D Success Academy is home of our Most popular Life Course… "Design Your Destiny"(formally "Slay Your Plans and Profit")
"Get Your, Money Get Your Life" Course (budgeting basics and foundations for financial freedom )
and home of the newly added
HER MASTER LIFE CLASS (tap into your feminine energy. Become an energetic match for your perfect people people (soul clients, relationships, family and the highest version of yourself)
Tap into your personal power.
​
Each month Begins a new Life/Business Topic

There are weekly topic centered video trainings with accompanied workbooks and material equipping you to build a stronger brand and step fully into your purpose and profits! ( you can go at your own pace)

Live Coaching at the end of each month.
​
Each Month's Training Segments map out a different Strategy.
They Include:
"Design Your Destiny "- Vision Clarity and Productivity where we fully map out and design your destiny for your Life and business . This will uncover where you can earn more and work less, manage your time, and simplify your process. This helps to assure you're working on the most aligned and prosperous activities according to your vision. Create the life and business you love.
Your Time Freedom is Priceless!
​
​
"The Prosperity Portal " Budgeting basics for debt Freedom on the path to financial freedom
Money Mindset- Where you shift into alignment to break your current money ceiling keeping you from more profits.
Pricing Your Products and Services for optimal return-

The Principles to Prosperity

Business Structure and systems

Branding 101 Training- The Building Blocks of Branding
Discover your Brand DNA
Gain Brand Clarity
Identify your Perfect People- Ideal clients
Define your area of expertise, your Zones of genius, to master and position you properly in the market place
Define your Brand Story and Messaging
"Discovery " Segments 1-3
Where you unlock the keys to your personal power. Discover your unique superpowers, your true brand identity
(Your Brand DNA) and your areas of gifting.
The "As a Woman Thinks" Training is included in The Discovery Segments that shift you into abundant thinking transferring abundant beliefs where limiting beliefs may have existed.
​
"Marketing Your Brand" Training " to the Right people-
You'll learn
How to get clear and define your niche
Marketing/branding strategies to market your brand on and off line and have access to marketing resources, templates, guides

Resources for blogging, email marketing, how to building a profitable website ( You will not have to do each marketing platform.. you get to decide what is aligned for you and your brand)

Social media marketing, client retention plans, referral systems, and more) to increase your Brand Visibility and Profits.
This will position you in front of the right people who want to do business with you.
"The Leader In You "- Leadership Training
Leadership Principles
Communication
Emotional Intelligence
Customer Service
"Relationships Matter Training" (Relationships and T.E.A.M BUILDING)-
Developing strong relationships for life and business
Bonus: Newly Launched not even to the public at this time "How to avoid choosing wrong relationships course". ( Will launch within the 12 month cycle you are in in the Academy)

You'll learn to define what's ideal for your Destiny Design,

make better decisions on your connections, collaborations and or partnerships.
"The Shift Experience"-This teaches the abundant mindset principle and equips you with tools to step into a space of expansion and new possibility.
and much more.
NOte: Modules are not necessarily released in this order.
​
​In Addition:
hours upon hours of Mindset training
(new training added often), templates, added resources, sample scripts, business contracts, etc.
​
3DSuccess Academy is A year-long opportunity, with Live Coaching.
All installment options require a min. 3 month commitment from the start date of enrollment. (no exceptions)
​
​
---
​
One time Fee
One time Fee Bonus. Those who pay in full get LifeTime Access To 3D Success Academy. In addition you will recieve a bonus onboarding Renew Straegy Call with Tanya (Valued at $997). This call allows more personal access, focus and assessment on your business.
Enroll Today. Start Today!
​
​
One Time Fee
( You can also opt for the Pay Pal Pay Later Option- Pay pal terms and conditions apply)
This is a non refundable opportunity as this includes digital access.

​
​What some 3DSuccess Women say:
​
​
​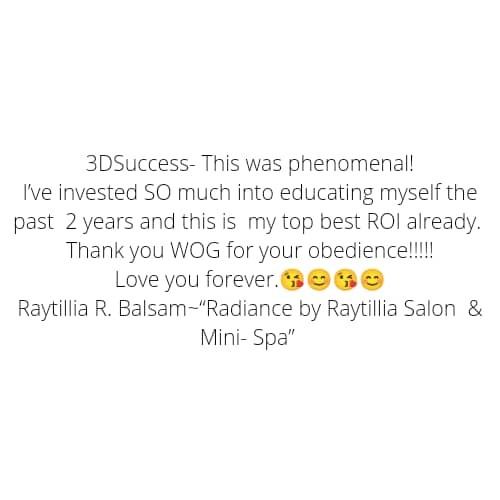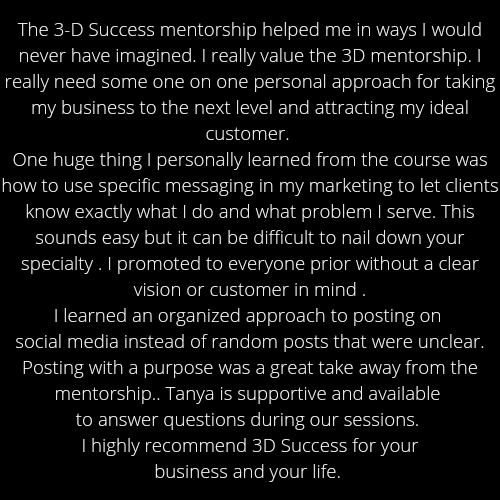 ​
​
Destiny by Design Course( Formerly "Slay Your Plans and Profit")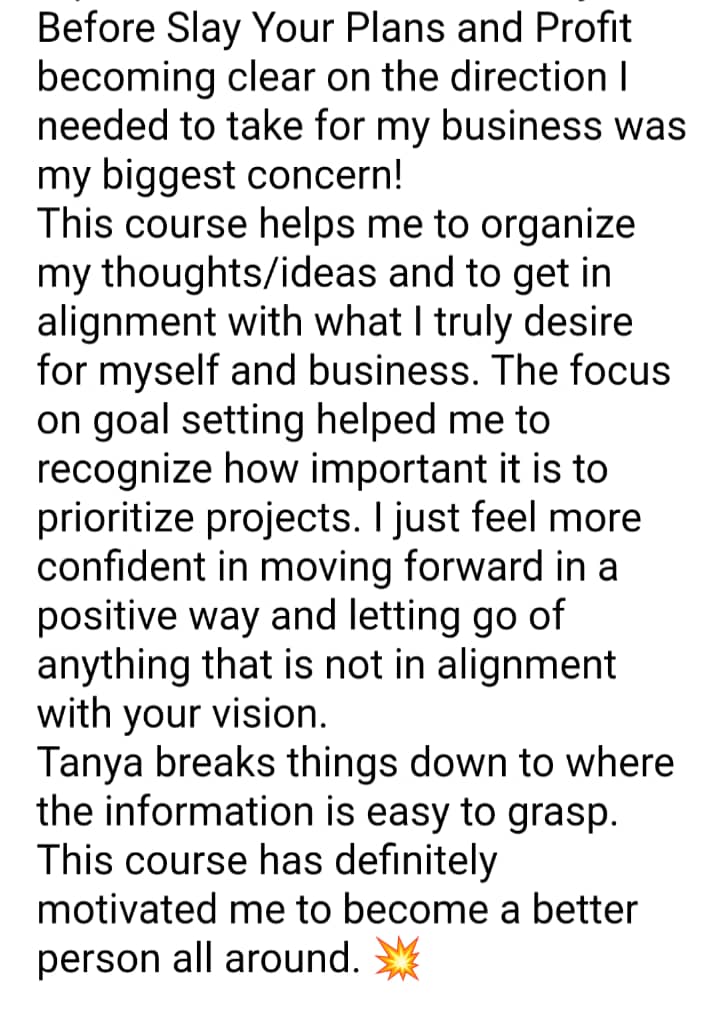 Frequently Asked Questions
When does the course start and finish?
You start immediately upon sign up with access to the Business Resource Portal. You will sent an email with access information to the platform the academy is hosted on.

This is a Year-Long Opportunity. enrollment and access end one year from your sign up date unless you are VIP. VIP receives lifetime legacy access when you pay the one time fee.

If you are monthly and unsubscribe early (after the 3-month commitment) you will no longer have access to new training and coaching after your last month charged at the time you unsubscribe.
How often is Class?
Weekly Training is uploaded to your Academy Platform and/or your email..
Monthly Live Group Coaching Session at the end of each month. Replays are available.
July/December are productive rest months( no Live Coaching. This time is used for self-review of previous information. To catch up if necessary and to find work-life harmony. The Business Resource Portal Portal ( with resources and bonus Mindset and Personal Growth training) will be open with 24-hour access during this time and always throughout the Academy.
Can I use more than one payment method if I am paying in full?​
Yes. You may use multiple payment methods. Simply email [email protected] with the subject 3D SUCCESS ACADEMY PAYMENT QUESTION​
​How long do I have access to the course?​
This is a year-long opportunity. Those who pay upfront in full have access for a lifetime legacy access. Those who pay monthly, quarterly, are obligated to fulfill at least 3 months. Access is given for each month equal to how they've paid as long as they continue to pay..
​What if I need to cancel?​
This is a nonrefundable opportunity, however, if you are on a monthly track you have to commit to a minimum of 3 months.
Afterward, you can cancel at any time. Why you would do that I'm not sure(SMILE).
​If you no longer wish to gain value from the Academy after your 3-month commitment.​
You must send an email to support 2 weeks(14 days) prior to the next starting month! Any request sent afterward will be charged and responsible for the next month and canceled in the next cycle.
​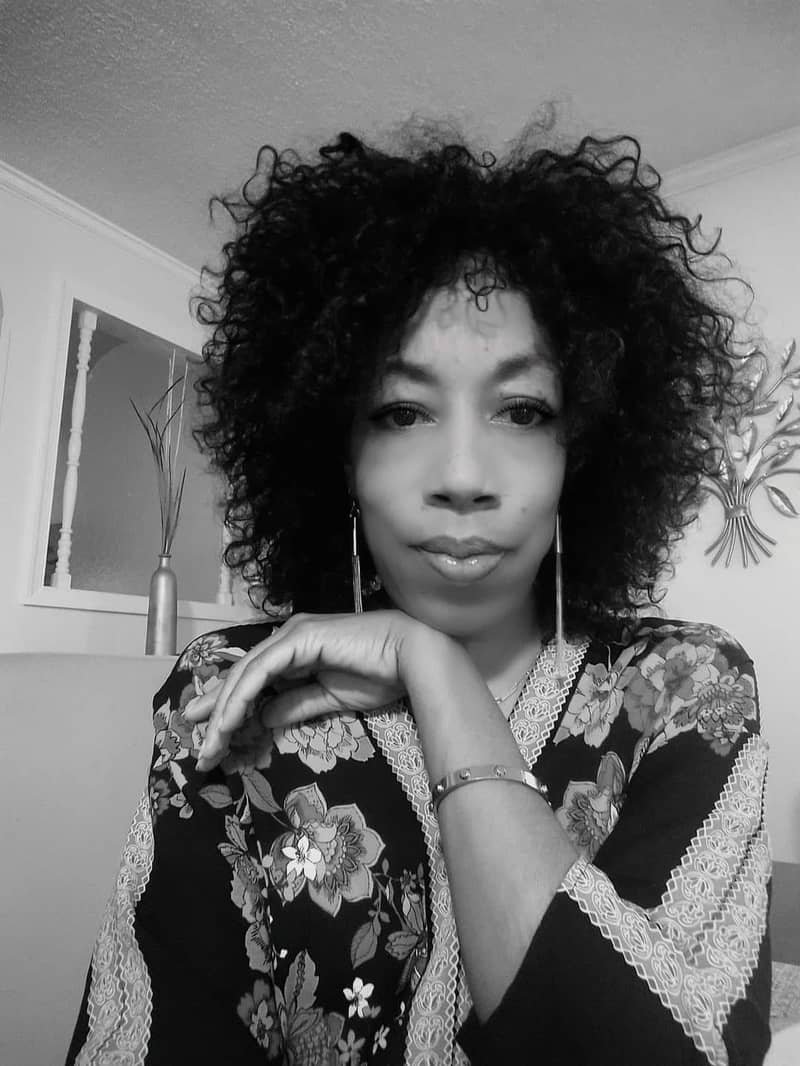 Tanya Wilson
The Growth Strategist
Master Life and Business Coach
Course Guide/Instructor.
​
I believe your business should fund your lifestyle…
not run your lifestyle.
And I'm on a mission to help more women business owners, build brands that feel good to their spirit, serve a bigger purpose, make a lot of money, and create lifestyles they love...